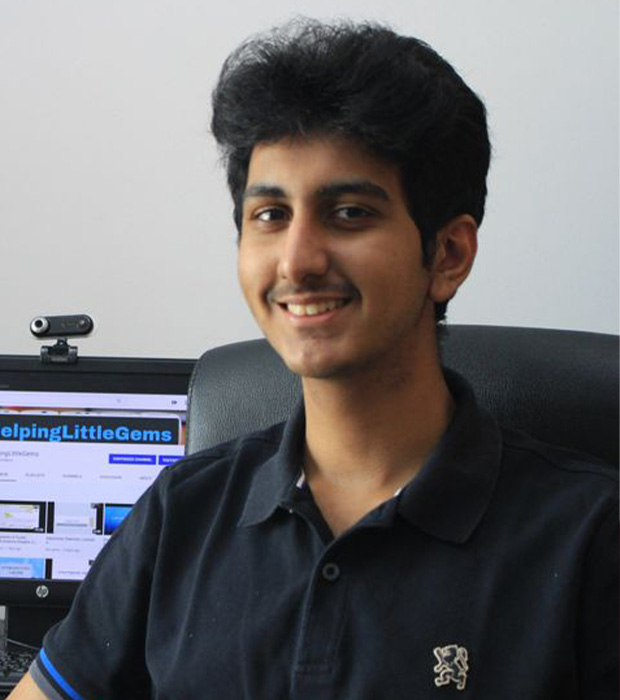 Samarth Chandna
Despite the COVID-19 pandemic, we students were able to continue with our regular studies, through online schooling – thanks to our school, teachers and technology. However, this was not the case for many a children lesser-privileged than us.

This had been bothering me for a while and made me think of what we could do to contribute productively to these children's education – not only during these times of the pandemic but continue way beyond. HelpingLittleGems sprouted from these unsettling thoughts.

HelpingLittleGems is an initiative By the Children, For the Children, where we the students create and upload content based on a range of topics learnt at school. These topics have been divided into short videos that are easily viewable. The aim of our YouTube channel is to provide free educational content in a simple and friendly format where learning is fun and easily accessible by anyone, anywhere.
We have tried to provide variety - both in topics and complexity - to cater to a range of age groups. Not only are we covering regular subjects like English, Science, Social Studies, Mathematics and Hindi, but are also creating videos on topics like Social Safety, Origami and Mental Health.
Creating the videos is one aspect; the other more important thing is making these videos reach the children who need the content. We actively started promoting our channel through various platforms. WhatsApp was our first medium, where I created a chain message that we all forwarded to our friends, family and relatives, urging them to share it with their house-help, workers, gardeners, drivers and also their friends, to eventually reach more and more of these children. We also used Instagram extensively to grow our channel.
Along with this, I reached out to various NGOs in India focused on child education. We have received positive responses from esteemed organizations like CRY India, UNICEF India, Save The Children, Goonj, and Bachpan Banao. All of them are exploring ways of sharing these educational videos with the lesser-privileged children with the help of their colleagues/volunteers. We are also trying to contact schools whose regular classes are on hold so that these videos can help the children in continuing their studies. I am well aware of a local school in Kolkata where the teachers have used some of our videos as a supplementary tool for teaching.
Key Statistics:
Founder: Samarth Chandna
Started In: April 2020
Date YouTube Account Went Public: 1st May
Number of Contributors: 60+ (All students)
Number of Videos currently on the Channel: 160
Cumulative views (YouTube plus Instagram): 20K
Number of NGOs Contacted: 100
Number of Email Sent to NGOs: 300
Covered by Gulf News: 21st July 2020 (Online), 23rd July 2020 (Print)
Links: