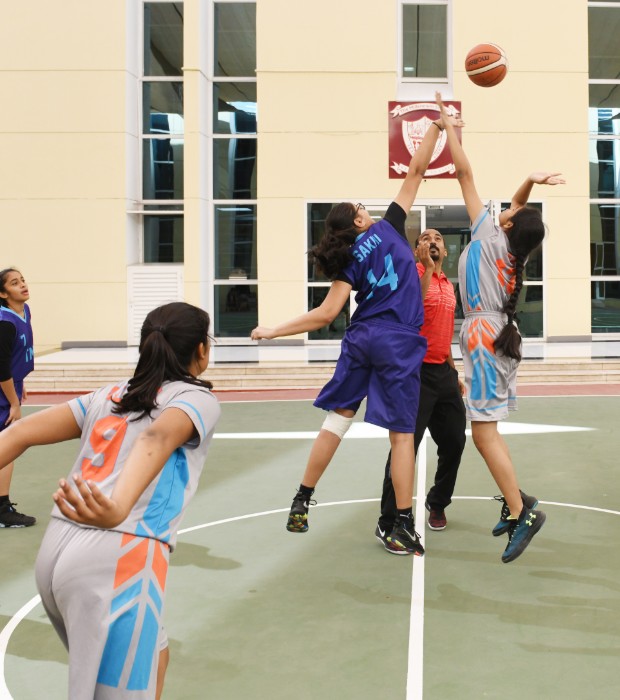 Summer House Report - Girls
2019-2020, a year that ended wonderfully with the start of a fresh decade, a new chapter and a new verse for the girls of the Summer House to continue persevering to do their best following our motto "Ad Astra – Reach for the Stars" for without labour, nothing prospers.
Summer House triumphed over the houses bagging the Athletics Cup for the year displaying true comraderie, determination and focus with Ardra Manoj receiving the Individual Championship Trophy in the Senior Category and Rena Mariam receiving the same in the Junior Category.
Our Middle School girls of Grade 7 and 8 - Alexis, Sumedha, Suhani, Kate and Rida placed 1st in the Inter-House Basketball competition doing us proud and the Senior School students secured the 1st position in Table Tennis doubles for Grades 11 and 12.
Anoushka Pawar of Grade 9 secured the 2nd position while displaying her flair in oratory skills in the Inter-House Elocution Competition. The MUN event saw a lot of participation from the house helping the students to gain insight into a new and enlightening experience to understand how global affairs are handled by various countries.
Summer House won the Overall Championship House on Sports Day. A tremendous achievement to all the athletes. Ardra Manoj, Rena Mariam Zacharia and Alexis Carvalho were declared Champions. Ardra was a torchbearer and took the oath. A prestigious honour for the House, indeed.
On Sports Day, the Middle School displayed a terrific drill. The young gymnasts outdid themselves with combinations of artistic and rhythmic styles.
A wise man once said that it is not about the position that man achieves in real life that determines his success, but the obstacles he has overcome while trying to succeed. This year has been different from the rest, but a splendid year indeed.