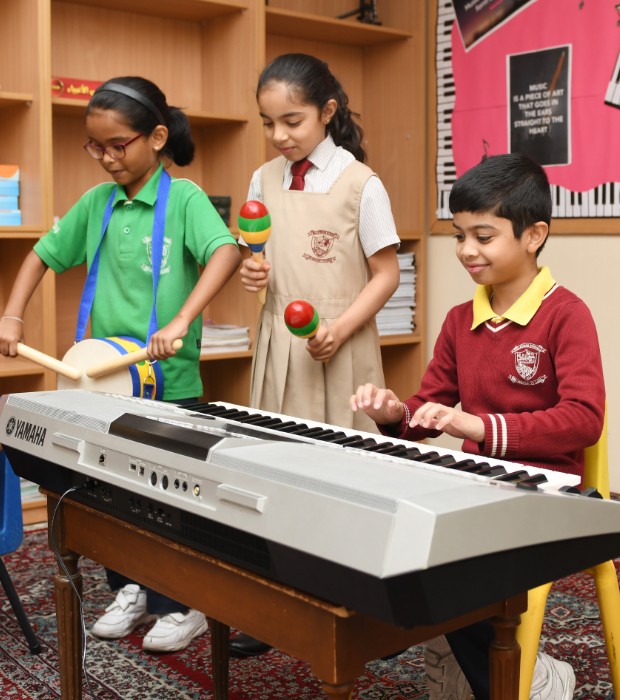 Facilities
World-class infrastructure and cutting edge learning
Our state-of-the-art campus includes:
Communities of fully equipped classrooms and Amenities:
The Library
The Millennium School has a spacious and well-resourced library that provides students with opportunities to discover the enchanting world of knowledge. Our rich collection of books is updated regularly and students are encouraged to make full use of this facility to develop a love for books from an early age.
Laptop Trolleys
An additional feature are the laptop trolleys where individual students or an entire class can avail of the laptops placed in trolleys for use in their classrooms. The work can then be transferred onto an USB and taken home for reference.
Zone Millenia, The ICE Center (Innovate, Create & Explore Center) and Play Pen
The school provides well equipped and child friendly exploratory rooms and play pen for the pupils of the Kindergarten and Primary School. The 21st Century skills are honed in a supportive environment.
Voice Lab, Art Room and Dance & Movement Room
The school provides a voice lab equipped with the latest musical instruments to nurture the musical skills of the pupils.The school also has another well-equipped music room for the use of Kindergarten and Primary students.

The school also has an excellent Art room and Dance & Movement room for the use of the pupils.
Science and Technology
The school has distinct and separate science laboratories for practical sessions in Physics, Chemistry, Home Science and Biology, in accordance with the CBSE curriculum. The labs offer modern and excellent equipment where our students are encouraged to use their analytical and creative skills through research and experimentation.

Apart from the Middle and Secondary School, students of the Primary School also have regular laboratory sessions.
Sports
Beyond the development of skills, our sporting facilities support students in their goals of leading healthy and active lifestyles.

The school has two basketball courts, a tennis court, a turfed football field , a swimming pool,a baby pool and an indoor multi-purpose hall.
Medical
The school has a well-equipped and cheerful clinic. A doctor and four nurses are present at all times to take care of the health and well being of our children. Regular medical checkups and immunization is taken care of in the clinic. All cases of injury or illness receive immediate medical attention.
Nutrition
We encourage students to eat healthy. Snacks are available during the recess and hot and cold lunch is served during the lunch break. Please click here to view the Slices on line portal.