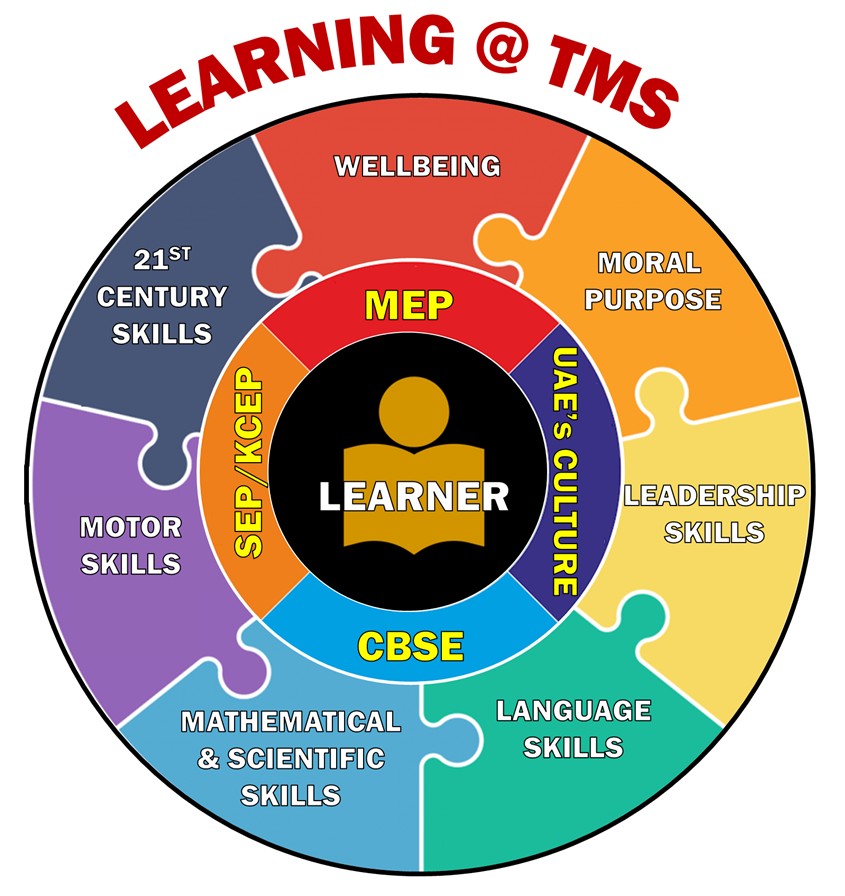 Curriculum Overview
At The Millennium School, the curriculum is designed to inspire students to become independent, lifelong learners. We follow the curriculum prescribed by the Central Board of Secondary Education (CBSE).Our unique and outstanding curriculum is influenced by global issues, the local environment and personalized to meet the needs of the diaspora of Indian students from various cultures and states across India. The innovative teaching approaches used help students to gain mastery over key skills and concepts, fosters critical thinking and collaboration and inspires students to make connections within and across all subjects.
Enrichment of the Curriculum
The UAE National Agenda and its implementation at TMS
UAE Social Studies

TMS uses the Ministry prescribed book. The curriculum is mapped to raise student achievement. A wide range of resources and strategies like research, field trips, collaboration and cooperative learning are used to teach the curriculum.

Moral Education

We use the Ministry prescribed books. An array of resources and strategies are used in classrooms. Well-being, assemblies and the Jewels of Kindness program form an integral part of this curriculum.

Inclusion

TMS is a socially inclusive school. We collaborate with the Manzil Center located in Sharjah through the Best Buddies Program.

Innovation

We cultivate a culture of innovation through Genius Hour and learning approaches linked to the curriculum. Zone Millennia in the Kindergarten and the ICE (Innovate, Create and Explore) Center in the Primary are hubs of innovation and creativity.

The students of Grade 9 enrolled in the Global Futures Curriculum (GFC) which is a bespoke programme co-created by GEMS and Singularity University. The GFC provides students with the insight, conceptual framework and tools to understand, and succeed in, a rapidly changing society.

Reading & Literacy

Programs such as the Oxford Reading Tree, Reading A to Z, Achieve 3000 and I Read Arabic help students build reading fluency and comprehension skills. A well-embedded library program promotes information literacy by helping students develop skills to find, evaluate, use, create and share information and knowledge.
Field Trips and Theme Days
Field trips and Theme Days help students interact with what they are learning. The experience goes beyond reading about a concept; students are able to see it, manipulate it or participate in it physically. We create authentic learning experiences across all subjects and topics that foster social interaction.
For anyone seeking an aesthetically engaging learning experience, the Kindergarten Self Enhancement Program (KCEP) and the Self Enhancement Programme (SEP) at The Millennium School is where the journey begins. The afternoon programme offers a plethora of activities, games and clubs where students are encouraged to nurture and develop their creative talent.