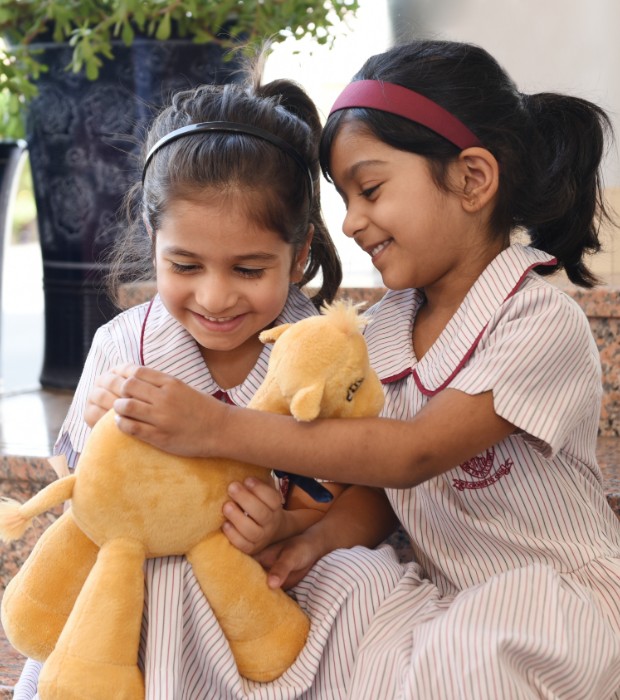 Kindergarten
Welcome to KHDA rated 'Outstanding' Kindergarten section!
The Kindergarten department at TMS provides outstanding learning for children aged 4 and 5 years of age. Our curriculum is designed to recognize the prior learning by providing first-hand learning experiences and allowing children to develop interpersonal skills, build resilience and become creative, critical thinkers to enable them to challenge themselves. We ensure the content of the curriculum is differentiated to meet the needs of all learners and taught in a logical progression so that children build on prior learning. We plan through a topic-based approach, but these plans are adapted and amended to address the ever growing and changing needs and interests of all our children.
Teachers and Teaching Assistants in Kindergarten create an environment to match the needs and skill levels of our children, use their own continuous assessment processes, and observe to ensure students are making progress.
Learning Through Play
We believe that communication and language development are of paramount importance. We support children's development by providing a rich language environment, where conversations, singing, and sharing stories become a regular part of the children's day.
Our children are immersed in many practical, first-hand learning experiences through which they are encouraged to explore, experiment and develop their language. The children use both the indoor and outdoor classroom during teacher-directed and child-initiated times. We have a particular love for outdoor learning and each day we go outdoors to learn about our outdoor environment. Additionally, throughout the year we organize several exciting activities, outings and visits to enhance the children's learning.
We believe learning through play is vital; we use the environment to ensure the children's needs are met through continuous provision, enhanced provision and following their interests. Staff teach an objective through whole class, small group teaching and going into provision to observe children's play and move learning forward at that point. They record 'snapshot' evidence of children's learning to build an overall picture and set next steps for learning. Continuous assessment helps staff to identify any children that need more support to achieve the objective and those that need challenge.
The Reggio Approach
At The Millennium School, the methodology used at Kindergarten interweaves the curriculum of Little GEMS with support from the EYFS framework and the very creative approach of Reggio Emilia. We intend that it educates all the children in knowledge, skills and understanding, to be effective, inquisitive, curious, independent learners and influence their wider thinking across all areas of the curriculum. We believe that the Reggio approach is successful because of its powerful image and deep respect for childhood culture. For its strong belief that children, teachers and parents all work together for the process of building knowledge. We are passionate about creating opportunities for children to communicate more efficiently through developing language and communication skills and specifically teaching vocabulary. We wish our children to believe in themselves and their abilities and capabilities, belong to the school learning community and the wider community, and become successful in their academic careers and beyond.

We intend that children experience the six learning areas through a balance of whole class/group teaching and play-based learning. This is through the children's interests, topics, themes, continuous provision activities, and phonics. The staff to support communication and language development; personal, social and emotional development; and physical development as well as literacy, mathematics, understanding of the world and creative arts, carefully plan learning.
Explore the Kindergarten Curriculum
The Little GEMS Curriculum with principles based on the EYFS has set standards for the learning, development and care of the children.

The principles are:

That every child is unique.
That every child can learn to be strong and independent through positive relationships.
That children learn and develop best in enabling environments.
That children develop and learn in different ways.

Areas of Learning and Development

There are six areas of learning and development. The areas are:

Personal, Social and Emotional Development
Physical Development
Communication and Language
Mathematics
Literacy
Understanding the World
Creative Arts

The main components of each of the six areas are:

Personal, Social and Emotional experiences are about:

Self-confidence & awareness
Managing feelings and behaviour
Making relationships

Physical Development experiences are about:

Moving and handling
Health and self-care

Communication and Language experiences are about:

Listening and attention
Understanding
Speaking

Literacy experiences are about:

Mathematics experiences are about:

Numbers
Shapes, space and measures

Understanding the World experiences are about:

People and communities
The world
Technology
Creative Arts
Exploring and using media and materials
Being imaginative

In Kindergarten we also offer a range of specialist subjects like music, swimming and Arabic. Arabic is introduced KG-2. Children listen to stories, rhymes, letter sounds and songs that are the basis of early Arabic. They also learn to write the letters.

he Kindergarten Curriculum Enhancement Programme is an optional programme where students develop interests beyond the classroom in things that interest them like cooking, ballet, hip-hop dance, cooking and creative arts. This programme runs from Sunday to Wednesday between 12:10 pm and 2:00 pm.