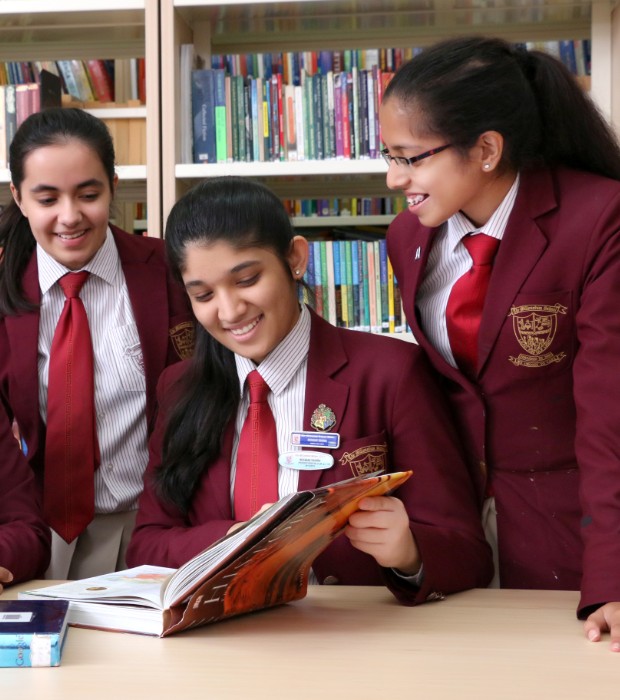 Senior School
Grade IX - XII
Welcome to Senior Secondary School!
The Secondary curriculum is broad-based and robust, that provides students with skill sets and balanced knowledge of key subjects, as well as effective critical thinking and communication skills. Students develop vital skills that allow them to be successful across all subject areas and assist with future challenges at university and in the workplace.
Independent and Inquisitive Learners
In the Senior school, students' intellectual, aesthetic, physical and cultural growth is strengthened and extended to enable students to fit into any international background. Through these years, students are guided on their career choices beyond the school environment. Consistent connections made to current global and real-life situations enable students to articulate the relevance of their learning. Very effective communication and enquiry skills is demonstrated during learning through group discussions, student opinion and by challenging their peers. As independent and inquisitive learners, students go beyond classroom learning to enhance their critical thinking skills. The broad-based and robust CBSE curriculum embeds the UAE's National vision, School's vision and is compliant in delivering lessons, especially in UAE Social Science, Moral Education Programme, Arabic and Islamic Education. The academic focus equips students for research-based higher education by developing 21st-century skills, whereas the exposure to co-scholastic activities ensures the personal & social development of students.
In addition to the standard CBSE curriculum at The Millennium School, we firmly believe in holistic education and therefore we are committed to developing extended and alternate learning experiences through our Self Enhancement Programme. We believe these opportunities encourage further challenges outside the classroom, nurturing, developing and growing specific interests and talents, creating further opportunities for students to develop and demonstrate our school's core values.
The curriculum in the Senior Secondary School has been rated as Outstanding by the DSIB.
Explore the Senior School Curriculum
The course aims, essentially, at promoting the higher-order language skills, develop greater confidence and proficiency in the use of the language skills, build communicative competence in various lexicons of English and develop ability and acquire knowledge required in order to engage in independent reflection and enquiry.

Speaking and listening skills better the interactive competence, fluency, pronunciation and language accuracy. Writing skill stresses on the ability to seek relevant information, lodge complaints, express gratitude, render apology, draft papers to present, express opinions, facts, arguments and constructing accurate sentence structures. Reading skill is developed to create independent thinking individuals with the ability to not only create their own knowledge, but also critically interpret, analyse and evaluate it with objectivity and fairness. Independent thinkers become capable of taking their own decisions in life rationally.

The Higher Secondary stage will be a preparation for the university, where a fairly high degree of proficiency in English is required and it also is a preparation for entry into the professional domain. The Core Course caters to both by promoting the language skills required for academic study as well as the language skills required for the workplace.

Social Studies is a crucial part of UAE education that teaches students how to be well informed, critically thinking citizens of their world. The primary purpose of the UAE social studies is to help young people make informed and reasoned decisions for the public good as citizens of a culturally diverse, democratic society in an interdependent world.

The rationale for this is to provide students with in-depth knowledge, skills and understanding in history, geography and civics, which emphasize the links and relationships between diverse groups, people, science and society. Teaching UAE Social Studies enable the students to contribute, as responsible citizens and residents of the UAE, to the building of a cohesive society that is inclusive of all, while preserving the UAE culture, heritage and traditions.

Social Studies is the interdisciplinary integration of social sciences and humanitarian concepts in order to teach students problem solving and decision making skills, so they may become proactive citizens in their communities.

Contemporary Social studies in secondary school is all about tracking changes around the globe. Central to this are students should be made aware how and why events are taking place, and how the present world in which we live is evolving. Students learn about the emergence of contemporary world behaviors, historical events, geographical distributions, and political happenings globally.

The NCERT curriculum of Mathematics encompasses various facets of concepts; those related to arithmetic, geometry, trigonometry, algebra, commercial mathematics, calculus, mensuration, statistics, and probability. The skill to calculate and organize and the ability to apply this knowledge and other acquired skills in their daily life comes along with it. It also includes understanding of the principles of reasoning and problem solving to acquaint students with different aspects of Mathematics used in real life. Students can acquire knowledge and critical understanding by way of motivation and visualization of basic concepts, terms, principles, and symbols. Moreover, it facilitates acquisition of 21st Century Skills and enhances self and social awareness. Throughout their educational career students will develop their understanding of Number, Algebra, Geometry and Data Handling. These are then applied to practical situations such as proofs and projects in order to consolidate understanding and develop their ability to solve problems.

Physical Education is a vast subject and it has been given importance from ages. Modern Physical Education stresses on balanced development of body and mind. The students are bound to understand the importance and total concepts of Sports Nutrition, Sports Psychology, Sports Medicine as well as Yoga. It focus on differently abled, Positive and negative impacts of sports on children and also the participation of women in sports and their physiological aspects. The students will also know how to conduct tests and measurements in sports as they will have a greater understanding on the topic. Not to mention, the students will have a complete knowledge on all the games and its training methods. As stated by the National Policy of Education, "Physical Education needs to be emphasized at all levels as it is an integral part of general education.

The course in Home Science encompasses five areas namely, Foods and Nutrition, Human Development and Family Studies, Fabric and Apparel, Resource Management and Communication and Extension. All these domains have their specific content in focus that contributes to the study of the individual and the family in Indian social cultural context. Helps students to function as a productive and responsible individual in relation to self, family, community and society, apply the basics of human development with specific reference to self, family and community, utilize the skills of judicious management of various resources, be sensitized to fabric and apparel, their selection and care, inculcate healthy food habits and lifestyle to enable prevention and management of diseases. Become alert and aware consumer and appreciate the potential of entrepreneurship and other varied professional opportunities to make informed career choices.

Art is an integral part of our students' holistic learning experience. Through their study, they develop numerous transferable skills and will learn to express their thoughts and choices confidently; apply creative approaches to problem solving and critically analyse their own work as well as the work of others. They will also consider and develop original ideas from initiation to realization, considering aesthetics, presentation and composition, taking risks & experimenting with colors & their creativity.

The present curriculum exposes the learners to different processes used in Physics-related industrial and technological applications. Experimental, observational, manipulative, decision-making and investigatory skills in the learners. Promote problem solving abilities and creative thinking in learners. Develop conceptual competence in the learners and make them realize and appreciate the interface of Physics with other disciplines. Due care has also been taken that the syllabus is comparable to the international standards.

The present curriculum provides learners with sufficient conceptual background of Chemistry, which will make them competent to meet the challenges of academic and professional courses after the senior secondary stage which is important for students pursuing their career in basic sciences or professional courses like medicine, engineering, technology and study courses in applied areas of science and technology at tertiary level. The curriculum expose the students to various emerging new areas of chemistry and apprise them with their relevance in future studies and their application in various spheres of chemical sciences and technology, equip students to face various challenges related to health, nutrition, environment, population, weather, industries and agriculture, develop problem solving skills in students, expose the students to different processes used in industries and their technological applications, apprise students with interface of chemistry with other disciplines of science such as physics, biology, geology, engineering etc, and acquaint students with different aspects of chemistry used in daily life.

The curriculum aims at emphasizing the underlying principles that are common to animals, plants and microorganisms as well as highlighting the relationship of Biology with other areas of knowledge. It relates the study of biology to real life with technology. It links the discoveries and innovations in biology to everyday life such as environment, industry, health and agriculture. The curriculum encourage learning of emerging knowledge and its relevance to individual and society, promote rational/scientific attitude towards issues related to population, environment and development, enhance awareness about environmental issues, problems and their appropriate solutions and create awareness amongst the learners about diversity in the living organisms and developing respect for other living beings.

The course content enables students to understand and apply basic computational thinking and to understand the notion of data types and data structures and apply in different situations.
Students are trained to appreciate the notion of an algorithm and to apply its structure. Students develop a basic understanding of computer systems - architecture, operating system, mobile and cloud computing. They develop the skill sets to enable them to work in the cyber world with understanding of cyber ethics, cyber safety and cybercrime. Students develop the ability to make use of the value of technology in societies, gender and disability issues and the technology behind biometric ids.

Psychology is a theoretical subject like biology. It deals with understanding causes, types and consequences of human behavior and also abnormal behavior. Course curriculum in medicine includes topics from psychology to understand patient behavior and doctor-patient relationship.

Commerce students should opt for Psychology if they are planning to pursue courses dealing with Business Management, Advertising and Marketing. A significant part of their course includes topics of Psychology such as leadership styles, organizational behavior, understanding consumer needs and attitudes, strategies of compliance etc.

Islamic Education is taught according to the guidelines stipulated by the ministry curriculum. The criteria namely Holy Qur'an, Hadith, Aqeedah, Fiqh, Seerah, Value and Etiquettes and Islamic Identity is taught across grades 9-12 during both the terms. Subject enrichment projects are also assigned to students inorder to increase their knowledge about the religion and to enable them to apply the religious values learnt in classrooms on an individual and societal level. Additionally students of Islamic Education initiate and execute programs like holding Iftar gatherings and creating awareness about the Islamic Events like Ramadan, Eid, Isara wal Mi'raj across the entire school community.

Moral Education Programme

The Moral Education Programme (MEP) covers four pillars of teaching and learning: character and morality, the individual and the community, civic studies and cultural studies. The four pillars complement one another, using the lens of moral thinking and learning and building character. Underpinning the curriculum are the thinking, learning and communication skills relevant to the programme, which support development and progression through the senior school years.

Second Language (Hindi, French & Malayalam)

Within languages, our students gain the ability to communicate while focusing upon listening, speaking, reading and writing skills. Through their studies they will also gain an insight into, and a positive attitude towards, other cultures and practices. Students also develop the skills to analyze texts to extract meaning through gist and inference, improve memory skills as well as expressing and justifying their points of view, attitudes and emotions.
Subject choice for Commerce Stream
In the Commerce stream the subjects offered are designed to equip the students to have a clear understanding of business and financial functions. The emphasis is on introducing students to Accounts, finance and management subjects and to develop problem-solving techniques, analytical and critical thinking skills. Students are encouraged to apply their skills to case studies and to real world business situations. Students are given real world exposure through Internships, Project work and conducting of Entrepreneurship and marketing bazaars.
Business Studies is an important subject for commerce students. It is a subject that deals with the operation and organization of modern business enterprises. The main areas of study in the subject include business organizations, their various features, structure and functioning, marketing, operations management, human resource management etc. Studying Business allows a student to observe and analyse the behaviour and tactics of different firms. The subject brings students abreast with the corporate culture and prepares them for their professional life.

Economics is a social science that deals with the study of the production, distribution, and consumption of goods and services. Studying economics enables us to learn more about how the world works as it helps in gaining knowledge about the impact that decisions have on firms, industries and nations, the impact of international trade, both good and bad, the effects government policies have on the economy and on employment.

Accountancy is an integral part of Commerce Stream. The scope and reasons for studying accountancy are elaborated. Accountancy is a branch of mathematical science that is concerned with the financial information about a business entity to users such as shareholders and managers. The financial communication that is studied under the subject is generally in the form of financial statements that show in the terms of money the economic resources under the control of the management. Studying accountancy enables a student to learn and discover the various causes of successes and failures of different business enterprises.

The course content provides the basic concepts of entrepreneurship, thereby equipping the students with entrepreneurial values, attitudes, motivation and competencies so that they can pursue a career that also calls for creativity and innovation. It establishes the relevance to emerging socio-economic environment and equips students with the necessary skills to make a meaningful contribution towards their personal and professional growth in future. Entrepreneurship provides students a foundation in management, finance and business operations.

This course will help students develop the skills for a variety of marketing and management careers. It helps in understand customer requirements, added-value products and services and the role of communications. Careers in marketing require knowledge of market research, consumer behavior, sales, visual arts and general marketing.