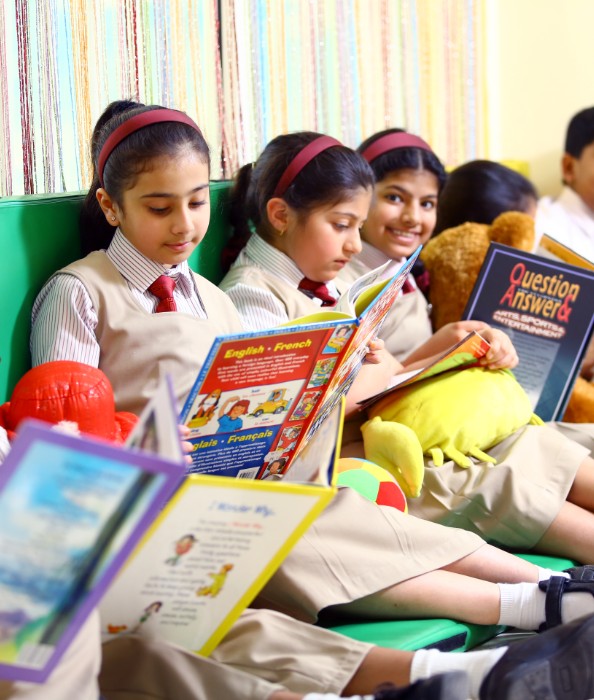 Primary School
Grade I - V
Welcome to the Primary School!
The ethos of the Primary School promotes personal responsibility, self-respect, self-confidence and a commitment to succeed and achieve.
We believe there is a genius in every child. We are passionate about imparting high quality and personalized education. The exciting and challenging teaching encourages students to be independent learners, express themselves and function in a variety of environments. An array of skills are developed across the curriculum with a common aim of developing every student to achieve or surpass their potential. The curriculum in the Primary School has been rated as Outstanding by the DSIB.
Carefully planned lessons, engaging activities, meaningful links across various subjects, application to real life examples foster meaningful learning, problem solving and critical thinking.
Triple A Pedagogy
Our varied curriculum is broad and balanced, as we recognize the value of developing the whole child experience. Beyond this, there is a rich mix of extra-curricular and in- house events opportunities. Children are often taught outside of their classrooms through hands-on investigations in the ICE Center (Innovate- Create-Explore) that is based on the Triple A Pedagogy (Acquire, assimilate and apply) and in the wider UAE community. Overall learning in our school transcends individual subjects.The Thinkers Key, Thinking Routines, Concept Cartoons, Socratic Questions are used as part of classroom learning.
We are one of the very few Very Good CBSE Schools in the UAE, and use the 21st century skills and approaches in teaching and learning. To further enhance the curriculum experience, Genius Hour is a period within the time table where students brain storm collaboratively on an array of problems and come up with solutions. They also design and create prototypes.
Do visit us to find out about the Primary experience.
Explore the Primary Curriculum
The curriculum revolves around the four skills Listening, Speaking, Reading and Writing. Emphasis is laid on Reading Comprehension across all subjects. A well-defined reading program that tracks the progress of students in followed in the Library and English periods.

The intent of the curriculum is as follows:

To read fluently and enhance comprehension skills
To develop the habit of reading for both pleasure and information.
To acquire a wide vocabulary, an understanding of grammar and knowledge of linguistic conventions for reading, writing and spoken language.
To write clearly, accurately and coherently, adapting their language and style in and for a range of contexts, purposes and audiences.
To use discussion in order to learn; they should be able to elaborate and explain clearly their understanding and ideas.

Through the teaching on Math students are taught to reason, problem-solve and develop fluent conceptual understanding in each area.

Through the teaching of Math, we intend to develop:

An ability to solve problems and think logically in order to work systematically and accurately.
An ability to work both independently and collaboratively.
Develop competence and confidence in pupils' math's knowledge, concepts and skills.
Pupils use a wide range of mathematical resources to explain their thinking in a concrete fashion, before establishing ways of pictorially and formally representing their understanding.
Are competent when reasoning mathematically.
Ensure children are confident mathematicians who are not afraid to take risks.

In the Primary School we work towards developing children's ideas and ways of working that enable them to make sense of the world in which they live through investigation, as well ensure that all children are exposed to high quality teaching and learning experiences thus developing their scientific enquiry and investigative skills. They are immersed in scientific vocabulary, which aids children's knowledge and understanding not only of the topic they are studying, but of the world around them.

We ensure that all children are provided with rich learning experiences that aims to:

Prepare our students for life in an increasingly scientific and technological world
Help our children acquire a growing understanding of the nature, processes and methods of scientific ideas.
Help develop and extend our children's scientific concept of their world.
Build on our children's natural curiosity and developing a scientific approach to problems.
Encouraging open-mindedness, self-assessment, perseverance and developing the skills of investigation – including observing, measuring, predicting, hypothesizing, experimenting, communicating, interpreting, explaining and evaluating.
Develop the use of scientific language, recording and techniques.
Develop the use of computing in investigating and recording.
Make links between science and other subjects.

The MOE Curriculum, which is related to the building great personalities, instilling the values of national identity, the practice and tenets of good citizenship which in turn develops a sense of belonging within the school and local community. Visits to museums and places of interest and celebrations o important days allow students to learn about the rich culture of the UAE.

The curriculum aspires to:

Investigate the world around us and ask questions
Develop an understanding and appreciation for Emirate traditions and culture
To compare cultures around the world
Use maps and globes to locate countries

We follow the Arabic B Ministry Curriculum

Students develop skills around the Listening, Speaking, Reading and Writing. The use of 'I Read Arabic', a reading program and Language Nuts from Grade 2 onwards helps develop these skills. Specially designed workbooks make the learning of Arabic fun.

We follow the Ministry Curriculum.

Students develop their understanding and practise of their religion, values and beliefs. Awareness is created regarding important Islamic Events and discourses held during the year. The recitation of the Holy Quran is given the most importance during classes along with the Prophetic Hadith and the rest of the 7 criteria as stipulated by the ministry.

Second Language (Hindi/French/Malayalam)

Students develop skills around the Listening, Speaking, Reading and Writing. Emphasis is laid on the spoken language.

The Moral Education program is an innovative, engaging curriculum designed to develop young people of all ages in the UAE with universal principles and values, that reflect the shared experiences of humanity.

The Moral Education program covers four pillars – Character and Morality; the Individual and the Community; Civic Studies; and Cultural Studies and blends academic content with an exploration of character and ethics.

Information and Technology

Information and technology is linked to the core subjects. Students explore an array of applications, use digital art and are taught how a digital system works. They are taught coding depending on the grade level. They learn about digital citizenship and literacy and are able to apply and express themselves and enhance their creativity.

The Art classes stimulate creativity and imagination The children use a wide range of materials and learn the techniques and skills of drawing, painting and collage, and an array of art forms through a skills based curriculum with many opportunities to apply these skills across the curriculum. Students also learn about artist and their works.

In the Dance class, students learn about the different dance forms and the skills suitable to their grade. Students showcase their talents at assemblies and concerts.

Music is a universal language that embodies one of the highest forms of creativity. Children loves music and it plays a very important role in helping to develop their confidence, concentration and musicality. Lessons build their skills in order to prepare them to perform in front of an audience.

Physical Education is about pupils learning about themselves: their capabilities, their potential and their limitations. Students develop gross-motor movements, including balancing, jumping, running. Our weekly PE lessons develop core movement skills. The swimming and aerobic classes revolve around the basic skills.

The Self Enhancement Program (SEP) in the Primary School starts from Grade 3. The program runs from 2.00 p.m. to 4.00 p.m.